Adventure Soft Playground
Adventure soft playground
Your child will release all their energy inside our Adventure Soft Playground!! The diversified mix of 41 different, attractive and fun play elements will keep the kids excited and active with Climbing, Sliding, Crawling, Balancing and Playing while exploring the huge 3 dimensional, Multilevel Soft Playground Maze. With 2 exciting slides, and all the different play elements, you can be sure your child will enjoy a SAFE & exciting challenge when they visit Kidz Palooza.
Note to Parents: Kidz Palooza's Adventure Soft Playground is built according to the highest European safety standards, manufactured & imported from the Netherlands. Safety is our #1 priority!
In striving for a cleaner & hygienic experience at Kidz Palooza, we have ensured that all our toys in the Tot zone & The Market are wooden! Not only are wooden toys more sustainable and kinder to the environment, but also healthier for children developmentally and physically due to the high levels of toxic chemicals in manufacturing plastic toys. 
Some of the classic wooden toys that you will find in our Tot Zone, like puzzles and building blocks, help children with numeracy, motor skills and problem solving. Children also begin to exercise their fine motor skills and hand eye coordination with wooden toys instead of simply pressing buttons and watching.
 Kids 3 years-old and younger have their own play area, so your whole family can have fun at Kidz Palooza. Our separate section is perfect for your toddlers who may still be a little unsteady on their feet.
Let that little Artist out! Children will be guided by experienced artists in exploring their creativity with a wonderful range of Acrylic, Oil and Pastel colors painted on Canvas. Our paint-based activities will allow your child an educational opportunity that will be so much fun! Come check out the studio and all our Art Programs! Excitement and creativity at all levels & ages!
Construction play teaches children to problem-solve, connect socially, understand and be inquisitive in their play. Providing random pieces of LEGO and unstructured time is essential to ignite their imagination and develop their creativity. Your child will not get bored as they create buildings, monsters & more! Also check out our vertical building pad!
Your child will engage their creative mind inside our Creative Station. Our experienced artists will ensure there is always something new for kids to explore & engage in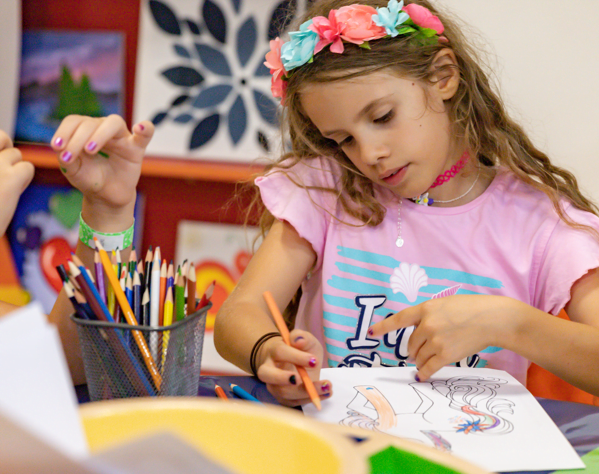 Playing shop where imagination has no limits! The market will allow your child to engage in a great activity-based learning on many levels while having so much fun!
Given there are so many benefits to role playing, Backstage is all about Dress-Up and Pretend Play. Kids love this corner as they use their imagination to be anything s/he likes, from a superhero, a princess, to a doctor!
KEEP OUR INDOOR PLAYGROUND SAFE AND FUN FOR ALL
Socks must be worn at all times inside the Soft Playground. Children and adults alike! No shoes, No bare feet! Socks can be purchased at the front counter. 
All kids under 4 years old must be supervised by parent(s), guardian(s) or care taker(s). No drop offs. 
No sick children;
No reckless play. No running.
Height & Age restrictions are in force for the safety of all children.
Feet FIRST down the slides! Lift arms to prevent elbow burn! Allow time for others to exit the slide before you slide.
Do NOT stand at bottom of the slide or climb up the slide area!
Do NOT sit/stand over top any furniture.
No toys, glass or sharp objects allowed inside the Soft Playground.
Empty pockets and remove jewelry (we are not responsible for lost or broken items).
No eating or drinking in the play stations. Food must remain in the central lounge or the party rooms.
Kidz Palooza encourages healthy food items from home but we do not allow food from outside restaurants.